We struggled with this one for quite a while. Fortunately we didn't leave the area of the Queen Wilhelmina Windmill, as we didn't know where to go.
Initially we thought that we should take one word from each of the circles on the navigation board, so we tried mixing and matching. But GC was way ahead of us there - there were just too many possibilities related to San Francisco locations. There was simply no way to "brute force" this one.
Frank G. Goodrich
Billie Michels Moore
Dorothy M. Jakus
Timothy Pynchon
Frederick Udall
Drew M. Stanfield
SW
NE
SE
NW
SW
NE

brisbane
funston
japan
alamo
hill
butterfly
sutro
california

corona
beach
golden
buffalo
tank
twin
cliff
murray

francisco
hill
heights
chalet
east
paddock
gate
peaks
mill
twin
rock
bridge
west
park
fence
hill
dolores

reservoir
hedge
valley
garden
bowl
mural
park
diablo

library
caroline
stall
cashier
sciences
right
bench

Then we thought perhaps it was semaphore, but not all of the circles had eight words each - one had seven, and one had nine.
Finally, a couple of our teammates got up and walked around. If the following image were much more detailed you would be able to see some important information, which they stumbled upon: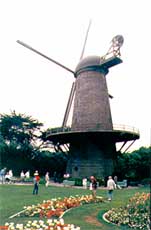 First, the flower beds look exactly like the wheel that we received. Second, do you see those benches in the background? Some of them have people's names on them. And some (three) of those names are actually on the navigation board. Those three names are Billie Michels Moore, Dorothy M. Jakus, and Timothy Pynchon.
To solve the clue, sit on each person's bench in turn, center the wheel at that person's name on the navigation board, point the navigation board directly ahead, then find the indicated word for each person. The word that is NE by the compass, at Billie Michels Moore's bench, is "CORONA." The word that is SE at Dorothy M. Jakus's bench is "HEIGHTS" and the word that is NW at Timothy Pynchon's bench is "PARK." So the answer is:


CORONA HEIGHTS PARK
At Corona Heights Park there really wasn't another clue to solve, just the final pieces of the meta-puzzle which we would need to solve to determine our final destination. We received the 17th and final matrix stick at the park, plus two pieces of paper.
Go to the metapuzzle page to see a photograph of the completed matrix, plus a description of the final puzzle.