We arrived at the Pulgas Water Temple - oops, sorry, hope you've already solved Clue 12. I'd never been there before and I thought it was beautiful! However I hear it is a frequent clue location and therefore somewhat of a cliche. (Sometimes it pays to be a relative rookie who doesn't live on the Peninsula, you can still appreciate new locations...)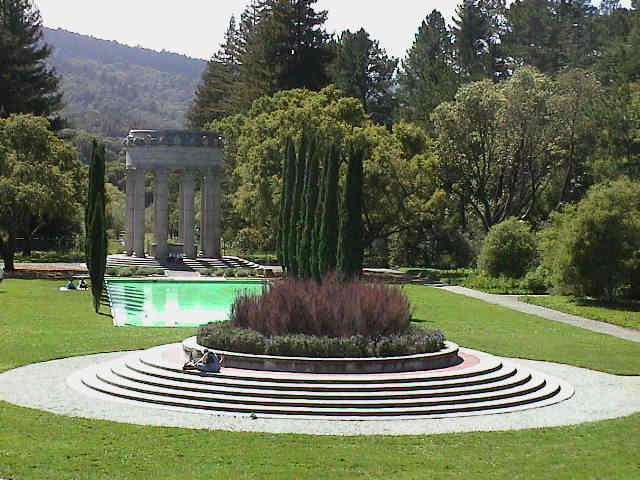 We found a bag of clues hanging from a tree and took our copy. When we got back to the van on the road, a Sheriff was waiting for us. He wanted to let us know that the road was going to be closed in five minutes - for several hours. I think it's a regular Sunday afternoon thing for bicyclists, but I'm not sure.
Hmmm... since we had just overtaken our arch-rivals MaxPower and knew they'd be arriving any minute, we were tempted for an instant not to tell Game Control.... no, seriously, we called them right away and they asked us to retrieve the clue and re-locate it. We agreed to get the clue, but asked them to give the task of relocating it to MaxPower, which they did (after all, we'd already done our duty at Central Park in Fremont when we made a detour to go back and help other teams find the clue). MaxPower showed up a few minutes later and we handed over the bag of clues.
In addition to a car key with our Mystic Fish stamp on the tag, and the notation A6C, we received an unsolved 252-piece jigsaw puzzle with a handwritten letter or number on the back of each piece. We were delighted by this, because our brains needed a rest and it looked nice and simple, which it was (lots of white space, though). Unfortunately we didn't really have a flat board that was large enough to solve it on, so we settled for the lid of a bin which was nearly flat - but not quite. We rectified this in the HLOTF game two weeks later by bringing a 2' x 3' foam board, which proved very useful when we had to play Solitaire with a deck of cards.
Here is a picture of the solved jigsaw puzzle, which turned out to be a picture rebus. It doesn't show enough detail for you to solve it, mostly because of camera glare on the shiny surface, so I've loaded pictures of each component of the puzzle below it.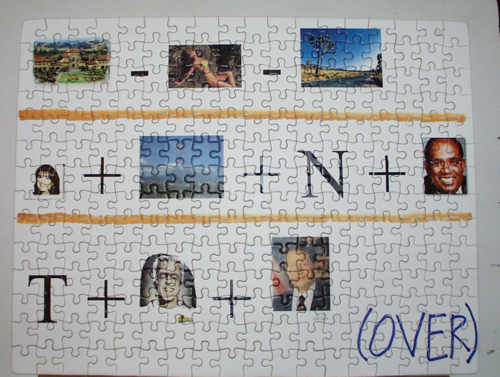 When solved, the back read like this:
| | | | | | | | | | | | | | | | | | |
| --- | --- | --- | --- | --- | --- | --- | --- | --- | --- | --- | --- | --- | --- | --- | --- | --- | --- |
| R | E | A | D | O | N | I | T | S | N | O | T | S | O | E | A | S | Y |
| A | T | P | L | A | C | E | O | N | O | T | H | E | R | S | I | D | E |
| F | I | N | D | Y | O | U | R | N | E | X | T | C | L | U | E | I | N |
| R | E | D | T | E | R | C | E | L | : | 2 | G | D | L | 3 | 1 | 6 | . |
| T | H | E | R | E | S | T | I | S | N | O | N | S | E | N | S | E | . |
| B | J | K | Y | M | R | A | E | 7 | B | ? | R | Z | A | Q | L | 7 | 6 |
| B | A | C | N | Z | W | Y | R | S | A | E | F | H | P | A | N | O | ; |
| Z | 6 | B | L | M | H | 3 | 2 | 1 | Z | A | 7 | D | R | S | B | Q | L |
| M | T | R | A | I | N | J | U | K | L | I | P | J | A | V | Z | X | P |
| V | A | X | L | P | R | E | E | E | Z | T | V | : | 8 | 9 | 2 | R | Q |
| V | N | R | W | P | - | 6 | 8 | 0 | R | G | H | U | M | L | A | J | K |
| H | E | V | T | J | I | N | T | R | E | X | 7 | 8 | - | B | 4 | L | B |
| C | C | D | E | I | R | G | B | F | L | A | S | M | N | E | O | L | G |
| O | 4 | 8 | 6 | 7 | N | T | L | P | F | 7 | ; | J | E | A | C | K | F |